CDB was established in Jakarta early 1995 as a supplier of spare parts to PLN (100% owned subsidiary of the Indonesian Ministry of Energy). Initially, CDB were supplying mostly to the Kalimantan region,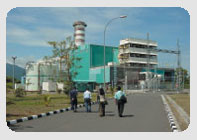 but as the 90ís progressed, CDB spread is network of supplies to Sumatra and Sulawesi. The new millennium brought CDB to the southern Indonesian provinces such as NTB and NTT.

In order to provide sufficient presence and support, affiliated companies were established both in Bali and in Lombok.

PA front-runner to PT. Presisi Teknik Utama (PTU) was established in late 2002 and formally registered with complete trade license for spare parts and services in the beginning of 2003 in Denpasar, Bali.

In the very beginning of 2004 PT. Prima Diesel Nusantara (PDN) was established for operation in the NTB and NTT provinces. Presently, PDN operates out of offices in Bali, Mataram, Sumbawa and Bima.

While PTU is a typical supplier of spare parts and specialized services, PDN undertakes complete upgrading, fuel conversion and turn-key projects in addition to its main business as a Total Maintenance Contract Operator (TMC).

Today, Nor Trading Pte Ltd is capable of supplying spares, engineers and specialists and technicians capable of repairing and over-hauling most types of medium and high speed engines and associated equipments and systems.
Spare Parts
Through affiliation with Nor Trading Pte Ltd in Singapore, spare parts for European, Japanese and American engine and equipment manufacturers, it being OM, OEM or other suitable parts ensuring uninterrupted supply of spares to most common engines and equipments.

Services
CDB, PTU and PDN, the Indonesian troika, employs in excess of 50 trained people, they are further supported by specialists from Nor Trading and locally attached casual labour as the various locations might require.