Nor Trading was established in Singapore early 1994 as a supplier of process and piping system identification markings and medical first aid systems for offshore vessels and drilling rigs. Most of the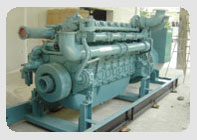 production vessels built in Singapore through the mid to end 90ís were equipped with the Flo-Code marking system supplied by Nor Trading Pte Ltd (distributor for Flo-Code A/S).

As the decade came to an end and the new millennium started, Nor Trading gradually transformed to become a supplier of diesel engine spare parts for a number of engine types and makes, mostly to private or governmental power stations and primarily through affiliated companies in Indonesia and Sri Lanka.

Parallel with growing the spare business, specialist engineers and designers joined the company and Nor Trading evolved into a complete supplier of life extension, up-grading and conversion programs for large and medium size diesel generators, including in-house design, calculations and engineering details. Supply of equipment packages, installation and commissioning has become a growing part of the Nor Trading business concept. Nor Trading has supplied upgrading programs, parts, equipment and technical support to several turn key projects undertaken by affiliated companies in Indonesia.

Today, Nor Trading Pte Ltd is capable of supplying spares, engineers and specialists and technicians capable of repairing and over-hauling most types of medium and high speed engines and associated equipments and systems.

Spare Parts
Through years of dealings with European, Japanese and American engine and equipment manufacturers, OEM and part manufacturers, relationship and supply chains have been developed ensuring uninterrupted supply of spares to most engine types.

| | | |
| --- | --- | --- |
| | | |